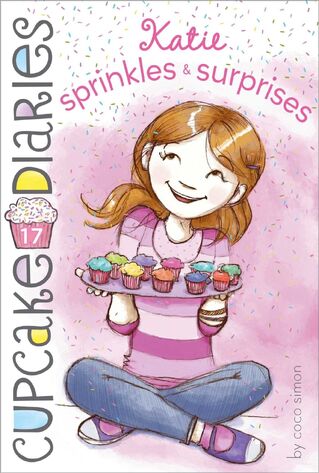 Katie Brown is a middle school-aged (around 13 or 14 y/o) girl, who is obsessed with cupcakes. Her ex-best friend, Callie, dumped her on the first day of middle school when she joined the Popular Girls club, lead by Sydney Whitman, who is known to be the most popular and meanest girl in school.That day she met Mia, Emma and Alexis. They all bonded because of the Peanut Butter and Jelly cupcake that her mom packed her.
Katie starts with no siblings but ends up with a slightly-younger step-sister named Emily when her mom marries a man named Jeff Green.
Personality TraitsEdit
Katie is very nice and sweet, and is often unassuming in that she always thinks the best of everyone. She is funny and can take a joke, but hates being teased. She's also quiet and shy around new people.
She has a crush on goofy George Martinez, who is universally known to like her back. She also has a crush on her friend's brother, Sam, who is known to be kind and cute. She is best friends with Mia, and also Emma and Alexis, but mainly Mia. She also is a frenemy with Olivia Allen who can be mean or very nice.
Appearance Edit
Katie is described to be very cute. She has light brown, wavy hair with natural highlights that is said to get tangled very quickly and easily, which she often wears down. She has hazel/brown eyes. She is also supposedly pretty skinny and lanky, not very muscular.
Katie's sense of style could be described as comfy casual; she often wears t-shirts and jeans or shorts, has no interest in fashion, and is sometimes quite messy. Her favorite color is rainbow. She also wears lots of DIY'd shirts, such as ones with self-applied decals and tie-dyes.