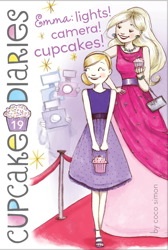 Emma Taylor
 is invited to a famous wedding lead to a Hollywood Star! Emma tells her friends to bake cupcakes but does not tell what they are for! Can Emma keep it a secret? Will it still be lights! Camera! Cupcakes?
This is the 19th Book of The Cupcake Diaries series.
This book will be released on April 15th, 2014.